China's Central Bank Cuts RRR Rate By 0.5%
According to the central bank, China will reduce the required reserve ratio (RRR) of financial institutions by 0.5 percentage points starting July 15. The decrease will likely open up around 1 trillion yuan ($154 billion) in long-term capital.
Wang Yiming, a member of the People's Bank of China's monetary policy committee, told the PBOC-backed Financial News that the reduction in banks' reserve requirement ratio (RRR) reflected China's domestic economic situation and price trends.
"This cut is a routine liquidity operation following the re-normalization of monetary policy. There has been no change to the prudent monetary policy orientation," Wang was quoted as saying.
Lowering the reserve requirement ratios by the bank had a positive impact on Asian markets on the first trading day of the new week.
Asian markets started the new week with a rise after the positive effect from the UU.S.markets on Friday and the liquidity step of the Central Bank of China.
Shares in Japan and Hong Kong rose. Despite the rise in cases in Sydney, Australia's largest city, an increase was recorded in the markets.
Chinese stocks led to the rise in Asia. The ChiNext index rose 4.3 percent to its highest level since June 2015.
G20 Countries Agree On Global Tax
At a summit in Venice on Saturday, finance ministers from the G20 group of large economies agreed on a proposal for global tax reform.
The ministers approved a deal reached last week by more than 130 countries, aiming to create an international tax on multinational corporations and establish a global minimum tax rate of 15%.
"We have achieved a historic agreement on a more stable and fairer international tax architecture," the ministers said in a final statement following two days of talks in Venice, hosted by G20 president Italy. "We endorse the key components of the two pillars on the reallocation of profits of multinational enterprises and an effective global minimum tax."
United States Treasury Secretary Janet Yellen, among those attending the grouping's first face-to-face meeting since February 2020, said the momentum must not now be lost.
"The world is ready to end the global race to the bottom on corporate taxation," she said in a statement, adding that it "should now move quickly to finalize the deal."
The Italian Minister noted that they intend to put into effect the mechanisms they have agreed upon until the G20 Leaders' Summit to be held at the end of October.
In their final statement, the G20 ministers "invite" countries to sign up.
Without the agreement of Ireland and other EE.U.hold-outs Hungary and Estonia, the European Union cannot implement the deal.
Biden's Order On Competition in The Economy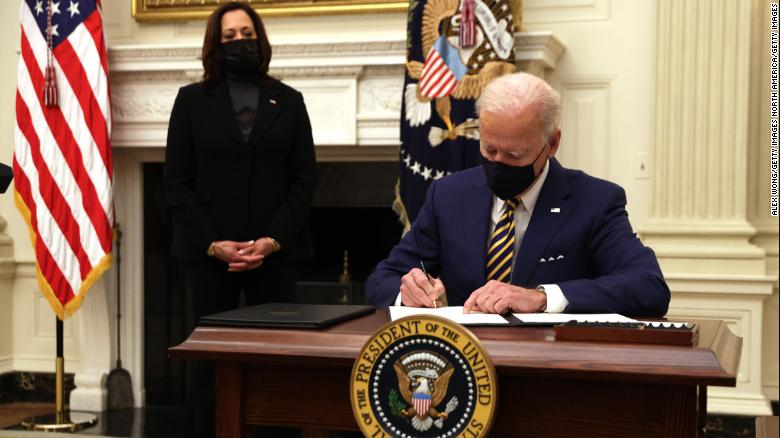 President Joe Biden signed a decree designed to promote competition across American industries, calling on regulators to increase scrutiny across several key UU.S.industries, including technology, insurance, health care, agriculture, and financial services.
"For decades, corporate consolidation has been accelerating," the White House said. "In over 75% of UU.S.industries, a smaller number of large companies now control more of the business than they did 20 years ago.
"That lack of competition drives up prices for consumers," the White House said. "As fewer large players have controlled more of the market, mark-ups (charges over cost) have tripled. Families are paying higher prices for necessities — things like prescription drugs, hearing aids, and internet service."
There are 72 separate steps and recommendations in the decree signed by President Biden, stating that there should be a fair competition to ensure vitality in the economy.
The White House says the order would
Empower family farmers and increase their incomes by strengthening the Department of Agriculture's tools to stop the abusive practices of some meat processors;
Make it easier and cheaper to repair items you own by limiting manufacturers from barring self-repairs or third-party repairs of their products;
Enabling more accessible bank switching by requiring banks to allow customers to take their financial transaction data with them to a competitor;
Make it easier to change jobs and help raise wages by banning or limiting non-compete agreements and unnecessary, cumbersome occupational licensing requirements that impede economic mobility;
Lower prescription drug prices by supporting state and tribal programs that will import safe and cheaper drugs from Canada;
Save Americans with hearing loss thousands of dollars by allowing hearing aids to be sold over the counter at drug stores;
Save Americans money on their internet bills by banning excessive early termination fees, requiring clear disclosure of plan costs to facilitate comparison shopping, and ending landlord exclusivity arrangements that leave tenants with only a single internet option.